BAANCHANG ELEPHANT PARK PROGRAM
Full Day - Elephant's Day Care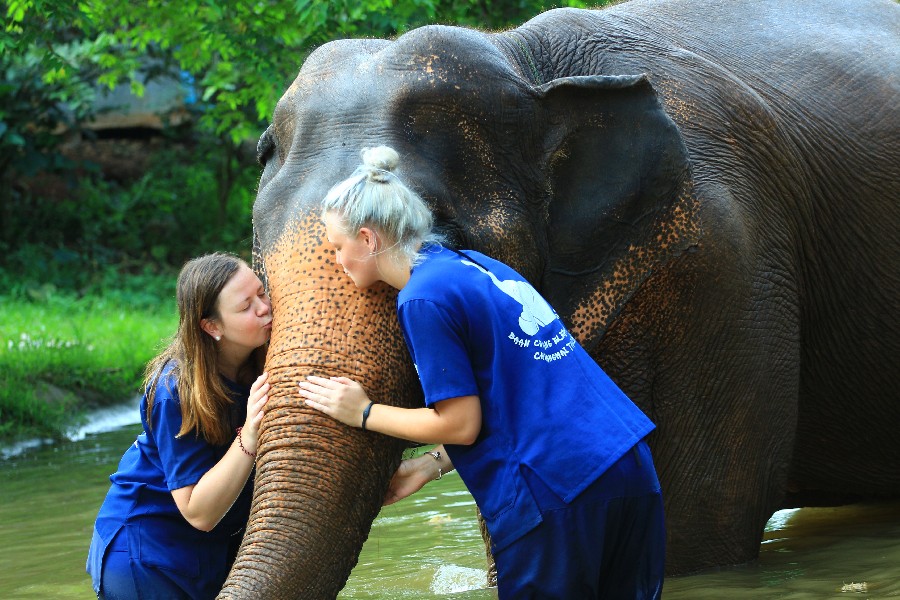 Full Day - Elephant's Day Care
(Maximum 12 person / Day )
9.00 am. Pick up from our office, your city hotel or accommodation. If you are staying out of town (outside Middle ring-road) additional charges apply. Please advice on your reservation form.
We will drive through agricultural Thai countryside North of Chiang Mai for 50 Mins to BAAN CHANG ELEPHANT DAY CARE.
10.30am Arrive at the Park, Make registration. Get change to our Mahout outfit. Meet our elephants.
11.00am Elephant Day care includes… Feed, prepare and cook sticky rice for our elephants. Learn about Background, health care and behavior of Elephant.
12.00am Lunch
13.00pm Starting your hike into the surrounding forests with Elephants. ( This Program No Riding )
** This special program is focused on taking your time and allowing the elephants to enjoy each moment of their freedom, scratching, rubbing, throwing dirt ... so be patient, enjoy the view and take lots of pictures**
15.30 Enjoy more time with Bathe, scrub and swim with our elephant. Feed sticky rice balls, Fruits to Our elephants.
16.00pm Tea and coffee break.
We leave the park and should be back in Chiang Mai by 17.00-17.30pm.
Please Note:
All activities and timings are approximate. Every day is slightly different to the day before,depending on the needs of the elephants.
WHAT TO BRING
Please remember to bring a change of clothes (you will get dirty/wet) , sunscreen, hat, camera, mosquito repellant.
PRICES
Adult: 4900 baht (includes transport, lunch, Elephant Foods, Tea or Coffee)
Child (under 9 Yrs) 3900 baht (includes transport, lunch, Elephant Foods, Tea or Coffee)